Gamers have long been stereotyped as introverts and loners, who are always glued to their screens without any social life. This was true in the past when the technology was old and our internet connections were slow so gamers had no choice but to play alone.
However, today, gaming has evolved into a full-fledged sport, thanks to the introduction of multiplayer games and high-speed internet connections.
Best Games to Play With Your Friends This Weekend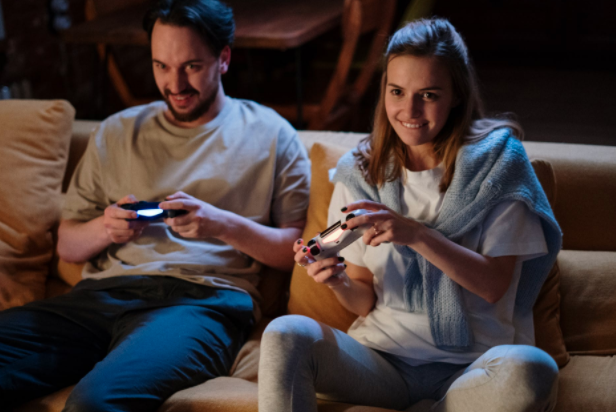 If you have been enjoying solo gaming up till now, we urge you to try it out with your friends. Not only will you have more fun, but you will improve your social skills as well.
According to Psychology Today, online gaming is a safe space, especially for people who are introverts, shy, and autistic, as they help such people communicate easily. Don't get us wrong. We are not endorsing that multiplayer gaming is for introverts only; it is a treat for extroverts as well.
The fact that gaming helps foster friendships and build social lives can be seen by the popularity of multiplayer games. As per The Insight Partners' market research report, the MMO (massive multiplayer online) games market is expected to reach $26.6 billion by 2025.
If you are new to the world of multiplayer games, let us share some of the best ones that you could play with your friends and have a blast.
Fortnite Battle Royale
Fortnite Battle Royale is a free multiplayer game that you can enjoy with your friends. There are already 350 million players of this game and rightly so because the gameplay is pretty exciting. In this action-packed thrilling game, 100 players are pit against each other.
The game starts with players skydiving on an island with only an ax. They must now search for more weapons and avoid the horrible electrical storm at the same time.
As players get eliminated, the circle of survival gets smaller and the game becomes more fascinating. All players get updates on their screens about other players, which gives an adrenaline rush and creates a competitive element.
There are various factors that make this game appealing. For starters, its graphics and colors are enough to entice children. On top of it, players get 'emote' features, attractive avatars, and chat options. Interesting, isn't it?
Call of Duty: Warzone
Call of Duty: Warzone is another battle royale game that you can play with your friends for free! The game involves teams of three, which makes it perfect for a gaming marathon.  So, if you are gathered with a couple of your friends, load the Warzone mode, and then head to the social menu to choose the players you want to play with.
Once you have done that, select the 'invite to the party' option and then wait for your friends to accept your invite. Once they do, you will see them in your lobby and an option on the top of the screen will show you 2/20 or 3/20, depending on how many friends join your squad.
Playing Call of Duty Warzone is a great social experience since you have to work in teams for survival. You depend on your partners and coordinate with them. This cultivates friendship as well as leadership skills.
Star Battles
This arcade game by Unlimited Gamez Mo is pretty fun. You can play this solo or you can have a competition with your friends; the one who makes the highest score wins. This game is simple and interesting at the same time. You have to avoid crashing into space ships and complete your missions.
Your goal is to survive as long as possible. You can adjust your speed accordingly, but don't crash into something and cause an accident in outer space.   You can download this game on your tablet or phone; you don't have to worry about PC configurations or consoles.
Counter Strike: Global Offensive
Developed by Valve and Hidden Path Entertainment, Counter strike is a first-person multiplayer shooter game. Global offensive is the fourth game in the series and is available for Windows, PS 3, Xbox 30, and Mac OS.
The game is not complicated at all. All you have to do is work in teams and bring down the opponents. However, be ready for intense competition. You start off the game with a simple knife and $800, which are enough for you to buy body armor and some basic weaponry.
You have to be wise while purchasing; don't spend unnecessarily.  What you have got to do is plant a bomb at one of the sites and then make sure that counter-terrorists don't diffuse it before it can blast.
It is a pretty realistic game with neat graphics. You have to rely on your teammates if you want to be successful.
Burnout 3: Takedown
If you are not into violent games,  we have a racing game for you that you can play with your friends in the split-screen mode. Burnout 3: Takedown was developed by Criterion Games and published by Electronic Arts.
While it is the perfect game for a game night, it can get pretty competitive. You have to drive your car like a maniac through the traffic and earn as much boost as you can.
The more boost you earn, the faster you get. The best part is that you can slam your opponents until you take them down. If you have the right gaming gears, you can take your game night to the next level.
It is time to have some fun!
Some gamers enjoy playing alone, but those who have multiplayer games know how exciting and fun it is to play with others. The competition, the adrenaline rush, and the sense of urgency make the entire experience worth it.
These are some of the best multiplayer games that you can enjoy with your friends. If you haven't tried them yet, then give a call to your friends and start right away!